ABOUT US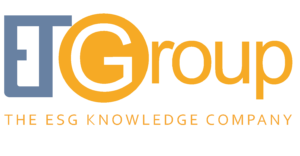 The group
ET.Group is the project created by the company ETicaNews srl.
Today, ET.Group represents a unique case in the field of journalism and research on sustainability issues (download brochure). The purpose of the project is to create a publishing world not tied to traditional advertising (in turn linked to readership), but based on the specialization of its journalistic skills and research activity in an innovative field such as sustainability, studied and monitored by a double point of view: company and finance.
In particular, ET.Group includes four lines of action:
JOURNALISM
RESEARCH
EVENTS
SERVICES (from storytelling to consulting and training)
Our journalism
ET.Group publishes the online magazine ETicaNews, created in late 2011 by a group of journalists and professionals with the aim of proposing a new and sustainable model of society, business and journalism.
From January 2019, ET.Group also includes a print publication, the ESG Business Review.
Our research
ET.Group has developed three benchmark projects in the field of environmental, social and governance factors (Esg):
Integrated Governance Index: a quantitative index that measures the level of Esg integration in the corporate governance
atlante.Sri: a unique database on socially responsible investing (Sri) players and products in Italy
SRI Awards: the only quantitative award for products and asset management companies operating in responsible finance.
Our events
ET.Group has developed, since 2016:
Our services
In parallel with the journalistic and research activity, ET.Group has developed specific services (download brochure) for professionals of Csr, Sri finance and Social Impact. Part of this services are available in the ET.pro online space, while others are developed ad personam. Our services include:
Information services
atlante.SRI
ET.observer (weekly commented press review)
ET.publicaffairs (review of rules, standards and lobbying activities)
Directory (people and research from responsible finance and economy)
ET.agenda
Services for third parties
Study of Esg indices and Esg finance asset allocation
Training for Sri finance and Integrated Thinking
Media partnerships (integrated communication projects)
Storytelling (content production)
Social media Storytelling (production of social content)
Creation and development of social media profiles
Surveys and research
Consulting projects on Esg Identity
Networking services
Focus group of integration between finance and responsible companies
Focus group on Sri initiatives and products
The company
ETicaNews is an Srl company based in Milan, founded in 2011 and owned by four partners, with no ties to other financial or publishing groups, nor political, trade union and religious groups.
Luca Testoni holds 85% of the shares, and three other subjects hold the remaining 15%:
Elena Bonanni
Alessandro Gelmi
How we finance ourselves
«The long tail means that the small organizations, on the whole, should control a large segment of cultural and commercial activities, thanks to the niches and sub-specializations that can now survive thanks to Internet», says Lebanese former trader Nassim Nicholas Taleb in his best-known essay, The Black Swan, which focuses on the strong impact of certain rare and unpredictable events, as was the 2008 crisis.
The starting condition for the project is the possibility to be an independent publisher, without any external pressure. For this reason, ET.Group purpose is to develop businesses that could be alternative to the advertising revenues.
Why?
Publishing model based on advertising revenues is increasingly conditioned by readership, in a vicious circle where the news agenda is based on the number of clicks rather than quality, and conditioned by the external pressures of advertisers, sometimes too bulky. The crisis of journalism, exacerbated by the economic crisis, has made it urgent to rethink the model towards a new way of conceiving the relationship with the readers.
ET.Group, therefore, aims to represent a model of sustainable publishing based on the economic value of its journalism and research in the field of sustainability (environmental, social and governance). There are two main lines:
events and services (see above)
subscription – In the belief that

the information and training quality must be recognized, ETicaNews online magazine bets on the creation of specialized communities in which the reader becomes a stakeholder with the will to participate and share the economic challenge for specialized and independent information. For this reason, access to the website contents is reserved for ET.pro subscribers.